Giving a voice and inspiring all those who feel or have ever felt trapped when going throw the trauma of domestic violence is what senior Titus wants to give to youth. Since the age of five, Titus has been involved with the Boys & Girls Club. Even when moving from place to place , he always felt the comfort of the Club through difficult times. The Club helped Titus break through barriers and become confident. "The Club helped me with my social anxiety and break through the barriers of feeling misunderstood and not feeling heard," he explained.
During his time at the Club, Titus has been involved with Keystone Club, Be Great Graduate, Teens 2 Work, and our driver's education program. Being involved with these programs allowed him to get a boost of confidence and run for Youth of the Year. In the beginning, Titus was worried about his chances at receiving this title, but after he presented in front of the judges, he felt confident he had the opportunity to be selected.. "The process was scary at first because I knew it was a huge opportunity. The judges were really supportive and encouraging, he stated" During his interview he felt an eagerness to open himself up to the judges and allow himself the freedom to share about who he was and his story.
Winning the title of 2023 Youth of the Year, has given him an opportunity to network and hear other youth's impactful stories.  Eydie Reiser, Graduation Specialist and a mentor of Titus's describes Titus as "someone who cares about those around him. He is a great role model to his peers, and is very devoted to his work and those he cares about." This caring demeanor is why Titus chose domestic violence as his platform for his speech because he said experiencing it firsthand allows him to portray a message to those who feel like they aren't being heard.. "I want them to know they are not alone and there is light at the end of the tunnel."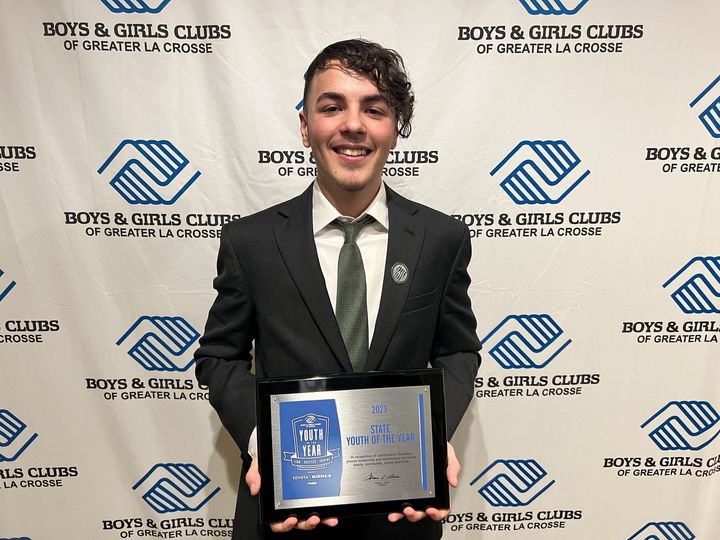 HE DID IT!! Titus has won the state competition and earned the title of State Youth of the Year for Wisconsin! He will go on to compete at the regional level in June. He is truly an inspiration and we are so proud. "I not only see the light, I am the light." We couldn't agree more, Titus.
Youth of the Month recognizes Club members who have excelled at the Club.
January – Berlin Site: Kaibree; Green Lake Site: Noah; Teen: Brianna
February – Berlin Site: Brooks ; Green Lake Site: Lucy ; Teen: Eliel
March – Berlin Site: Sawyer ; Green Lake Site: Piper ; Teen: Ash
April – Berlin Site: Elliana ; Green Lake Site: Hayes ; Teen: Ally
May – Berlin Site: Kenzie ; Green Lake Site: Lachlan ; Teen: Raquel
June – Berlin Site: Wynston ; Green Lake Site: Ashley ; Ripon Site: Charlotte
July –
August –
September –
October –
November-
December-